mp3PRO Plug-in for Winamp

The following text is based on a help document by "The Electric Front".

Back in 2004, the 'Zone Radio Network instituted the FM-quality Audio Standard. This standard utilities mp3PRO technology to delivery FM-quality audio at half the bitrate of MP3. Some of our listeners will experience this increased level of quality automatically, but some will not. Below is information on how to install and configure the THOMPSON mp3PRO plug-in for Winamp. For a list of other players, refer to the "FAQ".

1. Make sure you are using Winamp 2.8- 2.9 or Winamp 5 or great. Do NOT use Winamp 3, which does not support cool features like plugins.(Winamp 3 is not nearly as good as the 2 or 5 platform anyways.)

2. If you already have Winamp 5 or higher (or Winamp 2.8- 2.9) proceed to step 3, if not then CLICK HERE and download the latest Winamp 5 or higher platform. Once you download the file, install Winamp 5 or higher.

3. If you already have the free Thomson mp3pro plugin then proceed to step 4, if not then CLICK HERE and download the latest mp3pro plugin for the Winamp 2 platform (if link doesn't work visit www.mp3prozone.com and search for the free mp3pro plugin for Winamp). Once you download the file, install the mp3pro plugin for Winamp. Usually it installs to the Winamp directory automatically. If not, then make sure you browse and install to the plugins directory in your Winamp folder (usually C:\Program Files\Winamp\Plugins)

4. Once you have installed the plugin, open Winamp, and go to Winamp preferences. (An easy way is to hit contol and the letter "P" at the same time.) Once you have it open, look on the left side of the window, and find where it says Plug-Ins. Immediately under there it should say INPUT, OUTPUT, VISUALIZATION, DSP/EFFECT etc. Select INPUT.

On the right hand side you'll see a list that has a bunch of Nullsoft plugins in it. About 6 or so items down you'll see a plugin named THOMSON mp3PRO Decoder. Highlight it, and click the "configure" button just below the list.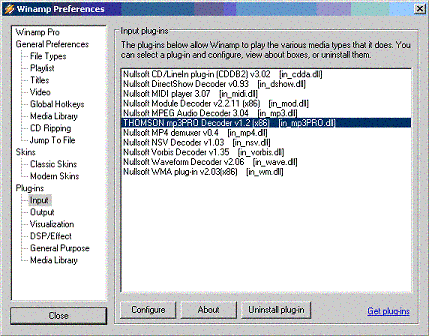 A window will pop-up with options. Make sure the ENABLE SHOUT -/ICE-CAST TITLE STREAMING box is checked. If it is you are fine, if not then click in the empty box to fill it in. All boxes should now be checked under the general tab.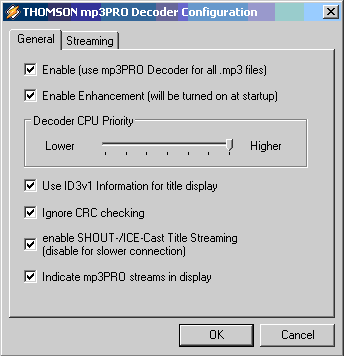 Now simply hit ok, and then close all Winamp preference windows. You are now ready to listen to 'ZRN in FM audio quality! Enjoy!